10-years After; Silent Journey of Late President Yar'Adua Family
10-years After; Silent Journey of Late President Umar Musa Yar'Adua Family
Yar'Adau Family and the whole of Nigeria would continue to mourn the death of a man who had been described as the best president to have ruled the country.
It has been 10 years since his demise, what then has happened to his children.
Today the 5th of May 2020, marks a decade since formal President Umar Yar'Adua died in office.
The Late formal president became the 13th president of Nigeria after he was declared the winner of the April 2007 presidential election.
He was sworn-in as president on the 29th of May 2007.
And Late President Umar Yar'Ardua, was also a formal governor of Kastina state, married to Hajia Turai Yar'Adua.
With whom he had 7 children together. He was also married to Hauwa Umar Radda from 1992 to 1997 and they had 2 children.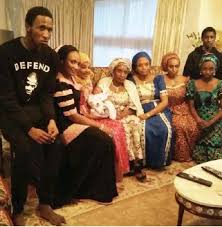 Since the death of President Umar Musa Yar'Adua, his wife Turai Yar'Adua has kept a low profile both In political matters and social life.
The formal First Lady, which was rumored to be a major adviser to her late husband only visit the Villa in February 2020, since her husband died in 2010 on the invitation of the current first last Aisha buhari.
Amongst her children, her first daughter Maryam got married to Ibrahim Shema the former Governor of Katsina State in 2014
Zainab is married to Kebbi State governor Usman Saidu Nasamu Dakingari, between 2011 to 2015 their union was rumored to be having a turbulent ride.
With reports that Zainab later divorced the formal governor.
In 2015 Zainab was invited by the Economic and Finance Crime Commission for corrupt practices while she was the first lady of Kebbi state, she has since kept a low profile.
See Also New On Coronavirus
Nafisat is married to the former Isa Yuguda the former Governor of Bauchi State, the union is blessed with four kids, three boys, and one girl.
Aisha Yar'Adua, the youngest of her daughters has kept a very quiet and low profile.
Turai two sons Shehu Umaru Musa Yar'adua and Musa Umar Musa Yar'adua have also kept a low profile.
However,  in 2018 Musa and his brother Ibrahim both got married.
Ibrahim Umaru Musa Yar'adua is the graduated son of Hauwa Radda, the divorced wife of the Late President. He graduated from Brunel University London in 2018.
where he successfully obtained a degree in Law. He is married to Saratu Sodangi who is also Lawyer.
BREAKING: Nigeria receives $311.7m Abacha loot from US, Jersey
Watch Video on How to Help Your Child Develop The Habit of Learning