The NAF Personnel Dancing In Viral Video had been Arrested And Detained By The Military
The NAF Personnel Dancing In Viral Video Has Been Arrested And Detained By The Military.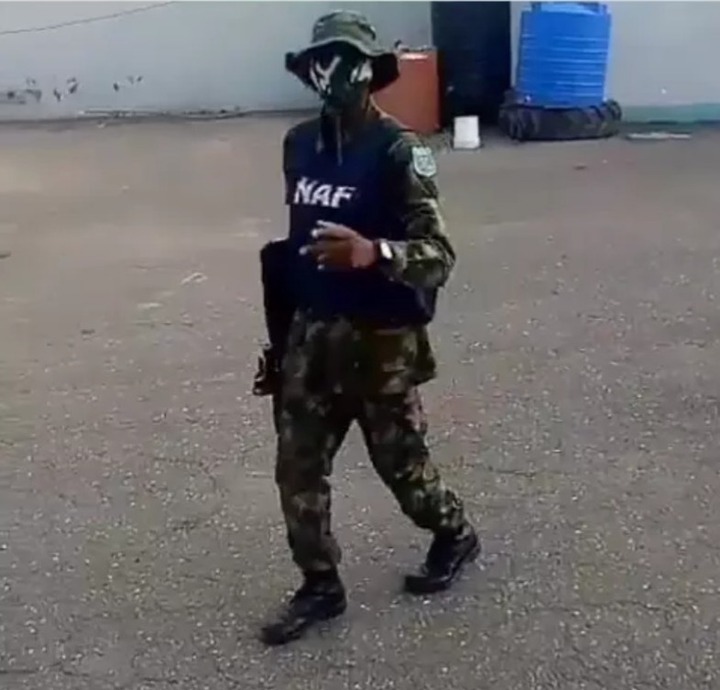 The Internet went wild late last week when a video of a Nigerian Airforce Officer recorded himself dancing to a Naija song and the minds of many Nigerians.
The unknown military personnel was the talk of the weekend as he vibed to the popular song SWEET by Singer/songwriter Wurld. In the video, the young looking and finely kitted Airforce personnel displayed his skillful Zanku and Legwork dance steps, this he did smoothly regardless of the heavy ammunition and gears on him (the gun and magazine, his bullet proof, big military jungle boots and the likes).
Moreso, the enjoyable video made a point of concern to civilians as many wondered if it wouldn't get him in trouble, because he had disguised himself by covering his face halfway with a camouflage military Vandana handkerchief. This concern comes due to recent re-deployment of some female officers by the Nigerian Immigration Service after they went viral for participating in star rapper/comedian Falz – Bop Daddy Challenge on Instagram and Twitter last month. Although after so much social media backlash on the Nigerian Immigration Service for being to harsh, the removal of the officers was temporarily put on hold following conclusion of a full scale investigation, hopefully they were pardoned.
Just hours ago, reports Trooped in that the NAF officer has been identified, arrested and detained in Kianji as he awaits the military disciplinary panel.
According to the poster who made this know, he said a close source in the military relayed the information to him. It is in record that the new military law prohibits dancing with a gun etc and certain behaviours under the social media rules.
Many have shown concern to the Military action to arrest the said personnel, calling it cruel and stupid to arrest an officer for just dancing whilst others have labelled the country as a place where expression of joy and happiness has become a crime.
Although there's a backlash to the arrest, another reasonable argument by another civilian has said that the said NAF officer knew the repercussions for his action, that was why he tried to his identify but was unfortunate as he was traced. He said that the Nigerian Armed forces has a code of conduct especially while on full uniform.
As at the time of reporting, no one yet knows the fate of the jolly nigerian Airforce Officer who's crime was dancing whilst on full duty. More reports on this as we know more, hopefully he wouldn't get a huje punishment.
For those who haven't seen the video yet, here's a link to it.
Even warriors bubble… pic.twitter.com/CtPdFdO1uR

— HENRY 🇳🇬 (@4eyedmonk) May 16, 2020
Kindly like, share comments Bellow and don't forget to follow me for more contents.