Dear Muslim, here are the steps involve in performing ritual bath after sexual intercourse
Most Muslim know about the bath but seems not to know about the steps and how to do the ablution so we choose to write about it with some step screenshot which will be attached to this article, don't worry read to the it's self explanatory.
Steps one involved is :
INTENTION: you should have the intention that you are coming to perform ritual birth or janaba. Your intention should be inside your heart and not saying it out loud (not verbally)
I think this is self explanatory. I feel if you don't understand anything here you should specify the view in the comments section and learn from the screenshots below too.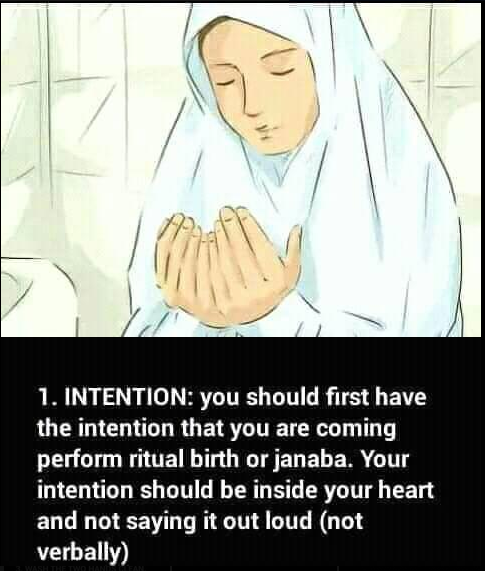 2. Saying BISMILLAHI RAHMANI RAHIM, then you proceed to the next step of taking the bath.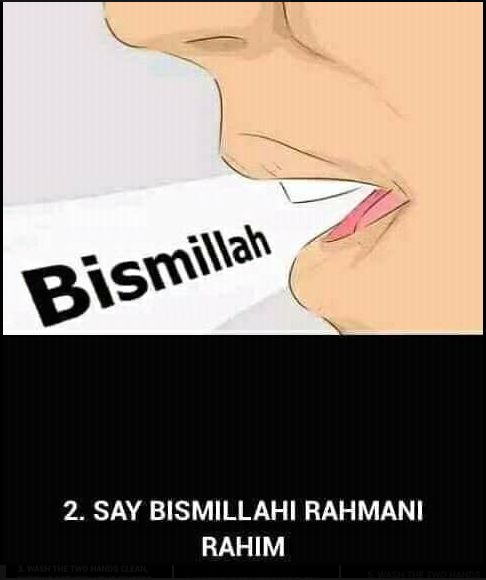 3. Wash your two hands clean and make sure it's being watched to the extent that you rub your two hand fingers together to make it clean just
to ensure that your hands are free from all kinds of traces.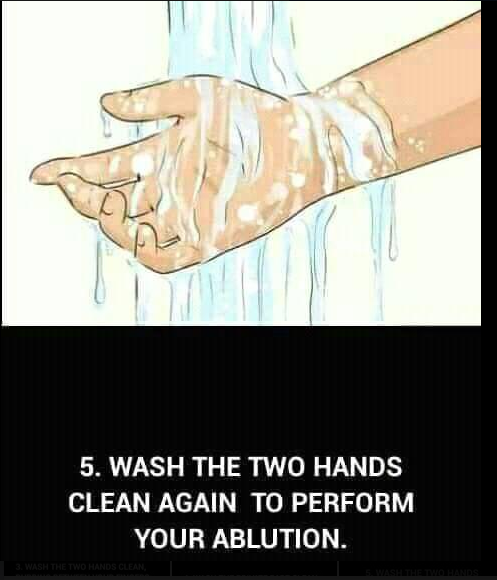 4. Wash the private part clean using your left hand, the process it to remove the traces on the private part and others.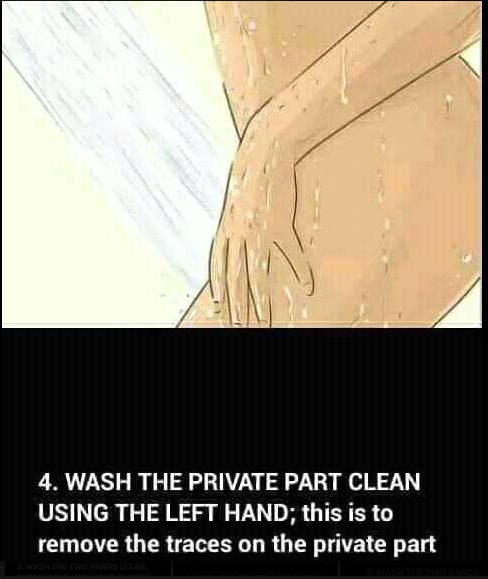 5.Washing of the two hands clean again to be able to perform ablution which is the next part of the bath.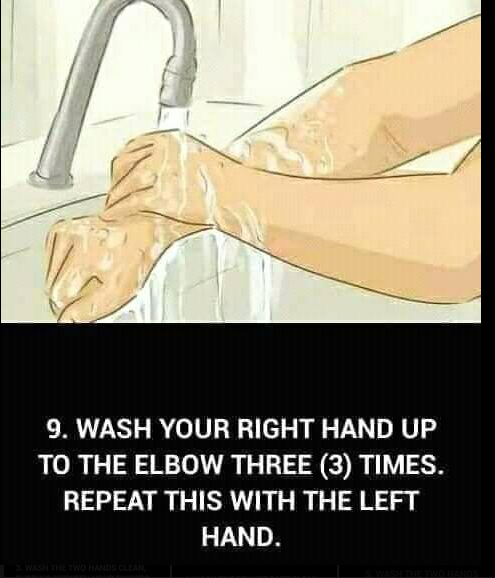 6. Put some water in your mouth and wash it three times well.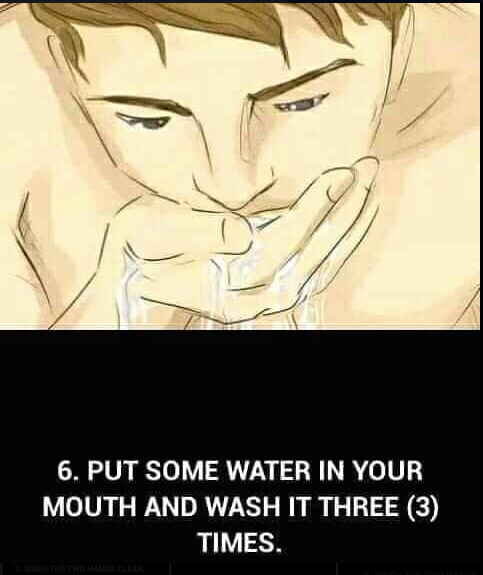 7.Put some water in your nose and blow it out three (3) times .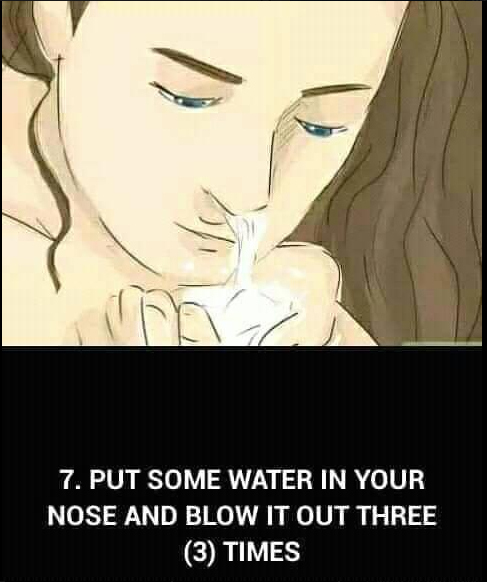 8. Wash your face three (3) time's .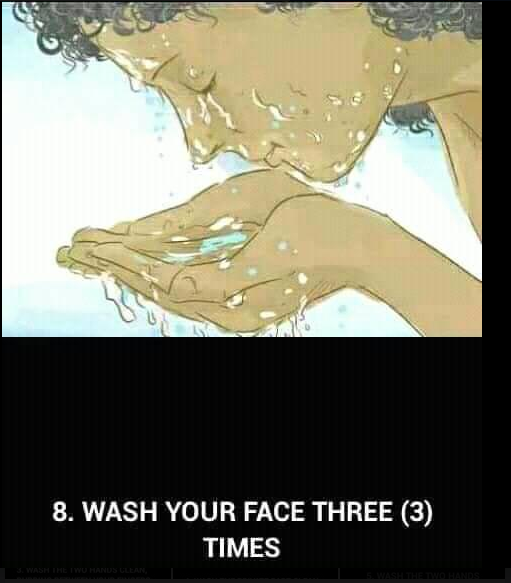 9. Wash your right hand up to the elbow three (3) times. Repeat this with the left hand.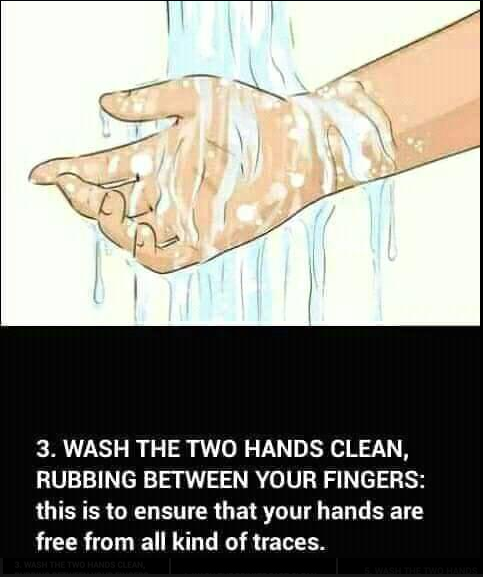 10. Pour water on our hair three times and rub your head once. Also rub ears after rubbing your hair once.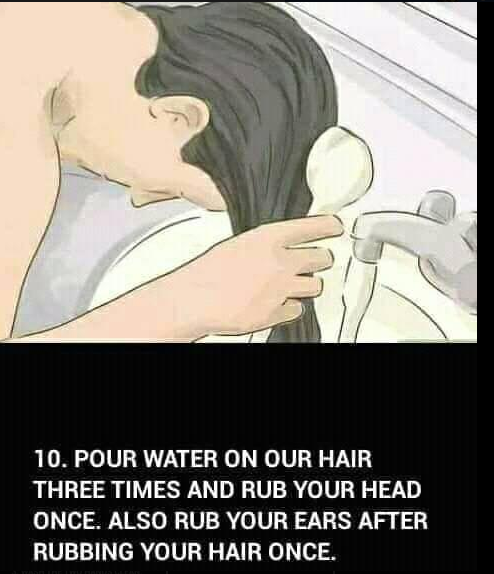 11. Pour water again over your head and rub the whole body. Both the right and left part of the body except the private part. Because it will nullify your ablution.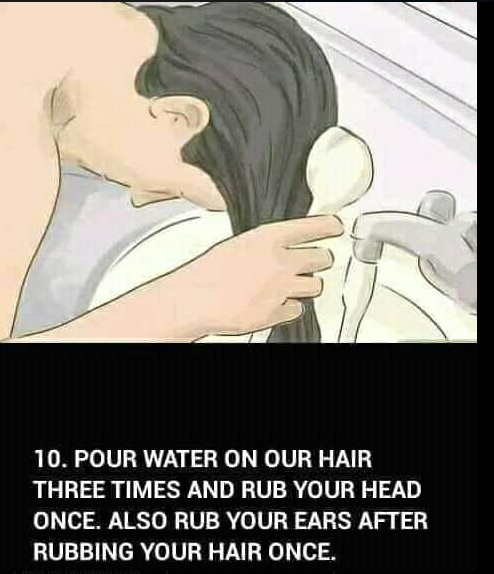 This is done to ensure that the water reaches every part of your body.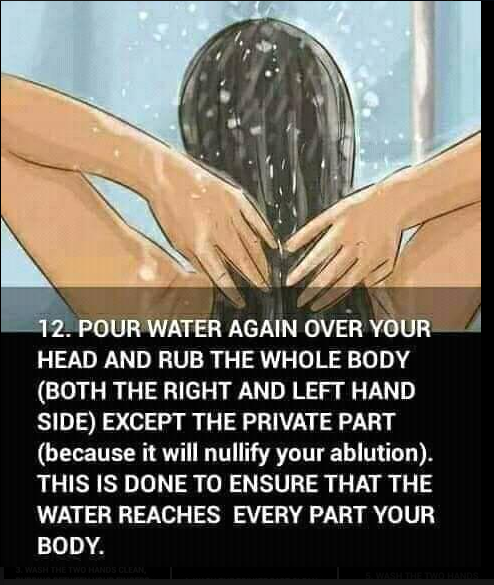 13. Wash your right foot clean, repeat this with the left foot. Note: washing the feet can be done even outside the toilet or you can move two step away from where you do your washing and wash your feet because it is the last step.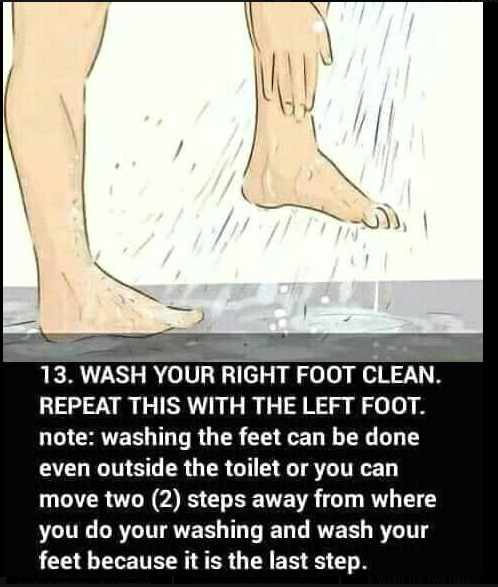 14. Use a dry clean cloth to dry your body. Now you are done with your ritual birth, and you can even go and pray without performing another ablution. You can only pray and pray without extra ablution, provided that your hands did not touch the private part during the performing of the ritual bath. However, even if your hands touch the private parts, your ritual bath is still complete but you will have to perform another ablution if you are to pray because touching the private part has nullified your ablution.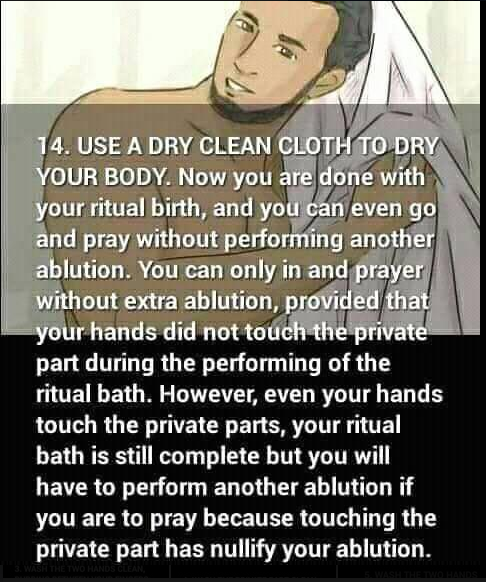 That's all about performing a ritual bath which is also referred to as janaba and for ladies which are likely to perform the bath after their maturation.
Hope it's self explanatory as I said if so kindly do by sharing this knowledge to others.