See How Kemi Olunloyo Dissed Linda Ikeji While Rallying Support For Tacha Concerning Her Age
Nigerian controversial journalist Kemi Olunloyo who is always in the news is at it again. This time, however, she is pitching her tent with a fellow controversial act Tacha.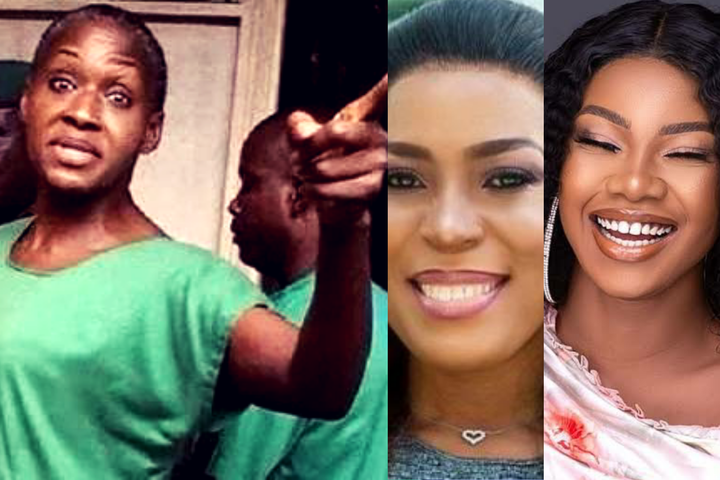 It will be recalled that in the previous week, Kemi Olunloyo came out to explain why the Case between Seyitan and DBanj is not valid. She even went as far as giving various evidence to support her claims.
This new week, the journalist who likes to be on the controversial side has come out to defend BBNaija ex house Natacha Akide simply known as Tacha.
In an interview on TVC, the interviewer Chude asked to confirm if the celebrity will be clocking 24 but it came as a surprise and shock to note that the actress who was born on the 25th of December 1995 claim that she will be turning 23 this year.
This statement uttered by Tacha has however not gone down well with some internet users as they accuse her of being a liar and deceiving the public with her industry age.
Kemi Olunloyo, however, is not thinking from the perspective of other people. According to her, Tacha's interview with Chude regarding her age is not a big deal.
She further mentioned that the brain was designed to work that way as tacha may not have known herself.
She then went on to make jest of blogger Linda Ikeji saying that Tacha does not need to cut her age just to fit in, unlike Linda Ikeji who announced that she was 40 when in reality she was 43 years old.
She then advised those calling Tacha a liar to desist from it because if at all the young celebrity was going to reduce her age, she would have reduced it to 21 or less.
For Kemi Olunloyo, Tacha's contradictory age was more as a result of a mistake on the celebrity's part and not an age reduction tactics.
Here is what Kemi Olunloyo had to say concerning the whole issue.
"Tacha Akide's interview with Chude regarding her age is no big deal. The brain is designed to work that way. Chude stuttered while asking her if she will be 24 this year and she said "23" her current age plus her birth date is the 23rd of the month. Those calling her a liar should desist because if she, in fact, wanted an industry age like Linda Ikeji, she would have made one up aka 21. Ikeji who is going to be 43yo uses her industry age making her 40yo this year. Industry age is associated with modelling and pressure in the music industry a lot due to institutionalized age discrimination in the entertainment industry all over"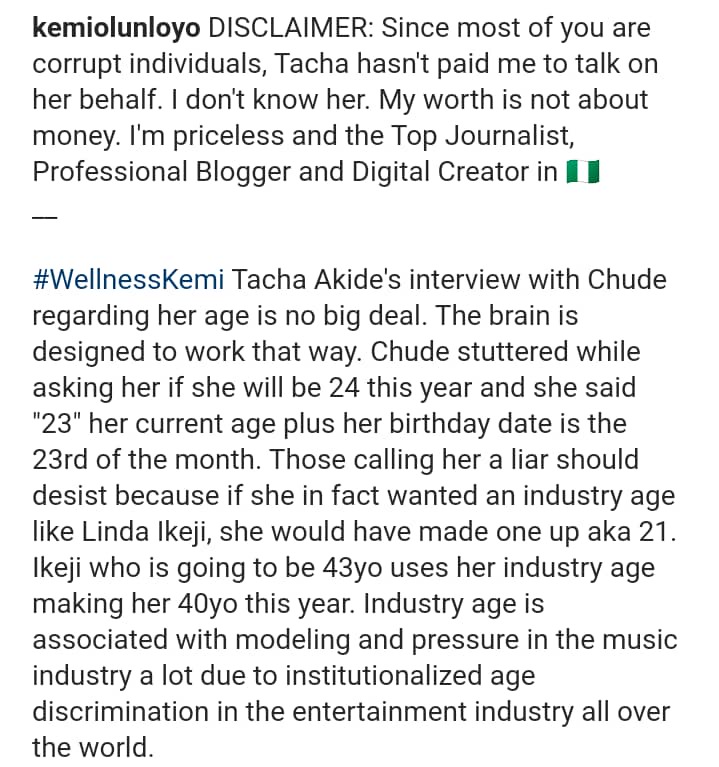 What do you think about this?
Do you think Tacha is not revealing his real age to us?
Please, Like, Share and Comment.
For more information visit: https://www.facebook.com/50Minds/