The Young Nigerian Singer, Rapper and Song Writer, Rema, suddenly poured out his mind like an opened dam on Social media and People are taken aback. This started immediately after the Bbnaija Finale Party.
This are my thoughts about his outburst. Each of his tweet is like an explosive reeking havoc in the minds of his fans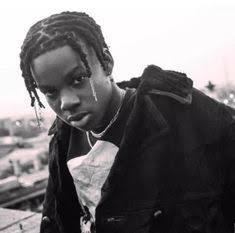 Divine Ikubor, Rema, like other Nigerian Artiste had rough beginning. Though he is 20 years of age but he seemed to have passed through patches and sharp edges of life.
Remember Rema met his grace back in 2016/2017 when he was signed by the Marvins record boss, Don Jazzy, through an Instagram free style he posted. Rema who was then 17 years of age, In this same year, dropped his debut titled Iron Man.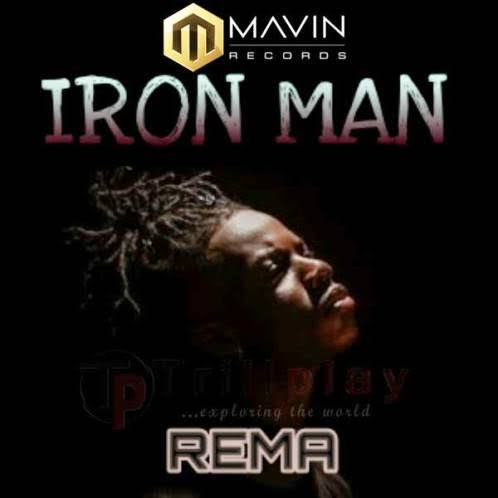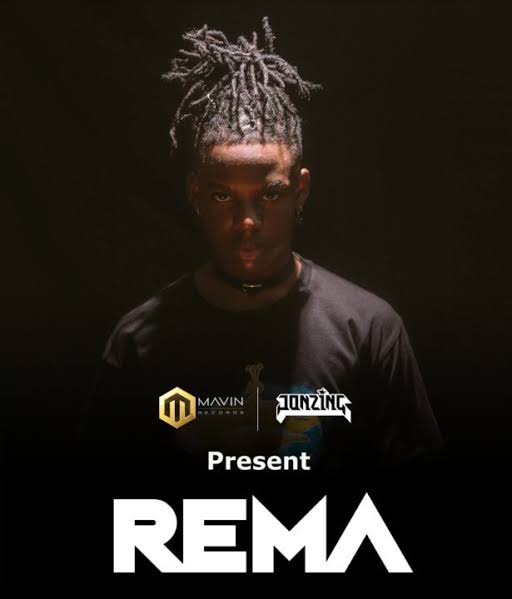 This was a song of Love. Of how strong a man should love a woman and care for them. This song is indeed a bomb it even made it to the summer playlist of former US president,, Barack Obama.
Below are some of his tweets and my observations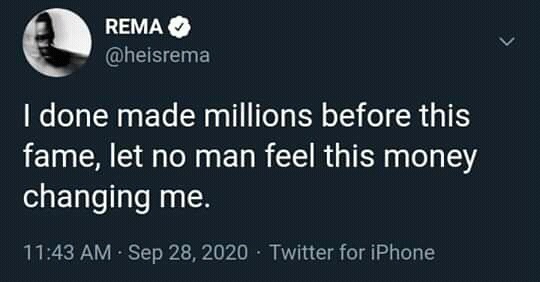 The Bbnaija Finale Party had Rema and Mayorkun performed on stage alongside Davido and others to conclude and celebrate the housemates and Laycon who emerged the overall winner.
It was rumoured that Davido did slap Rema in the house where Artistes were hosted. The slap scenario was later countered by the person that gave the misinformation yet people may still agree that something really happened in that room. A dog does not bark for no reason.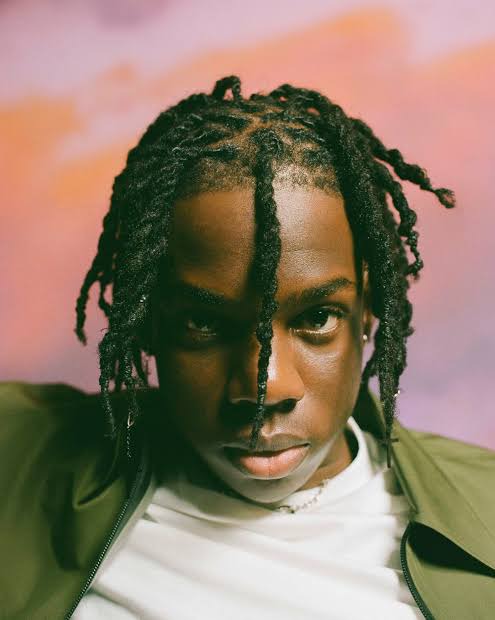 There was another rumour that Rema addressed Davido by his name 'Davido' and the 30 billion gang boss wanted the young Artiste to put some respect. I said, it was a rumour.
We can't really ascertain. But it seems Rema kept his cool in the room. Perhaps someone had called him proud. Reason he made this statement above. People thought money changed him but it is false, he implied.
We learnt that Rema was a part of a music crew called RNA and he was in money before his worldwide stardom in music industry.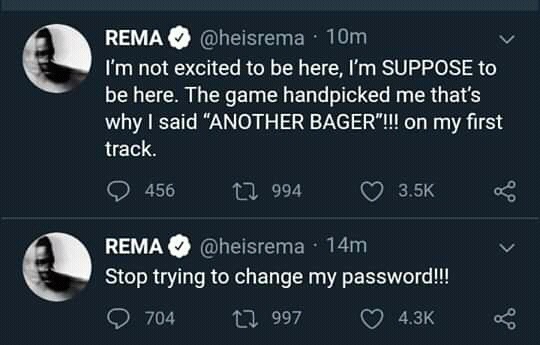 The tweet above. That he is not excited to be in the music industry. It was his destiny. What he is meant to be and nobody could have hindered him. What God has signed no one could tamper with it. He hustled for it. This is also Laycon's story. A man of grace likewise.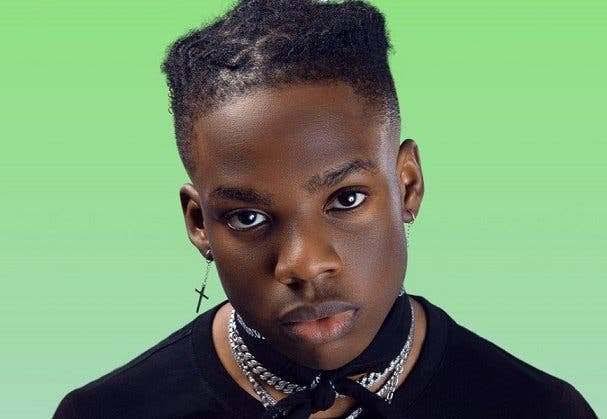 The second statement concerning his password got me thinking if someone in charge of his social media was trying to deny him access to spill his mind. At some point, he even said his rants were being deleted.
Thus, this password thing. Does anyone have another explanation for this. That's what I think.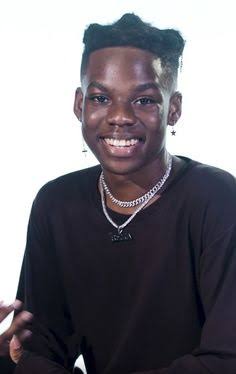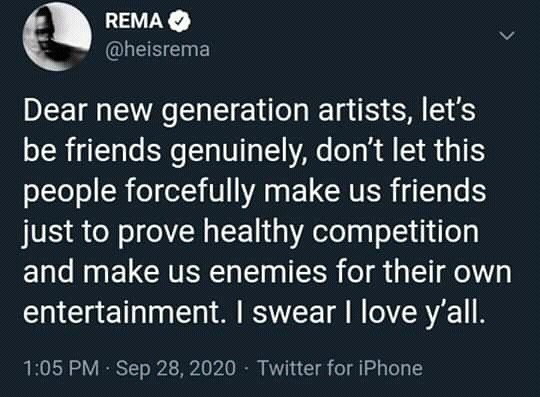 This Particular tweet speaks volume. What does Rema mean by "This People." Sure, we can all agree that he is referring to people in the music industry who are the bosses even before he came to limelight. We can't mention anyone but someone somewhere is manipulating the younger artistes and Rema is standing up in protest.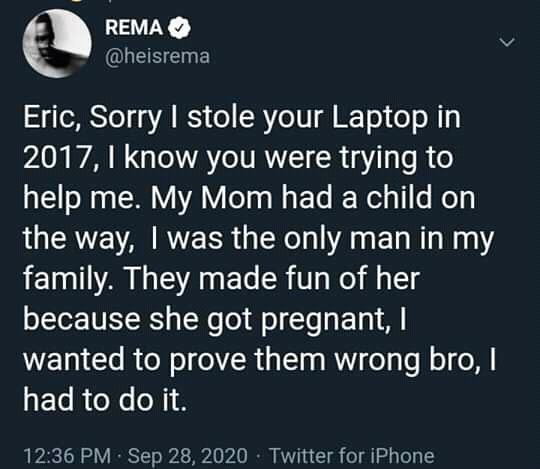 Eric was Rema's sibling who died years back. Rema was bittered about people who are quick to come near you during celebration but when tragedy strikes, no one will be found. People only love you because what they want to benefit from you and not a true love.
Rema has been hurt and in his further tweet, he acknowledged Barack Obama for validating his Iron man since it was on his playlist. He made mention of Governor of Edo state, Obaseki. He had performed during his win 4 years back and the Obaseki still won again. For this, it was only Obaseki that could "call him home" according to his statement. Call him home could mean stopping him from his rant which others have been trying to, but to no avail.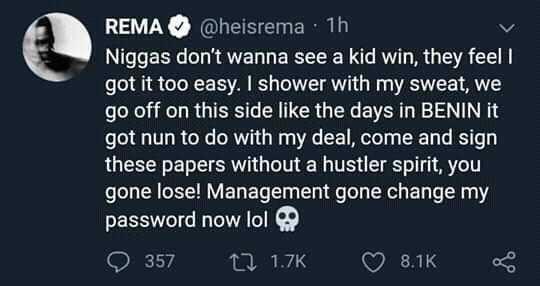 With the tweet above, I think I'm right. His manager is trying to hold him back from the outburst. Well, the way he has vented his feelings, he would be less tensed. Just like defecating.