Read this to ascertain if you have scoliosis
A person with scoliosis will have a C- or S- shaped curve in their spine.
It can appear at any age, but it often presents from the age of 10 to 12 years, or during the adolescence, but infants can sometimes have symptoms.
A structuralcurve is permanent, and may be due to another condition. A nonstructural curve is temporary and it is likely to diseappear with time.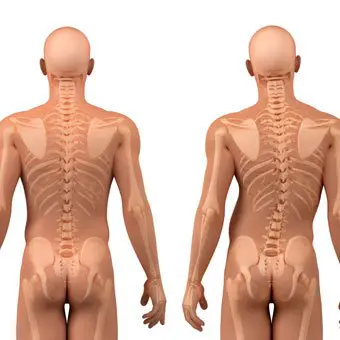 There are several types of scoliosis based on the cause and age when the curve develops; the majority of patients have no known cause.
Fast facts on scoliosis.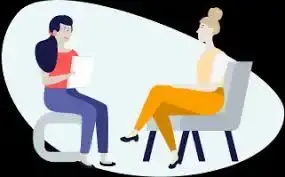 It may be unnoticed in mild and early cases and mostly ignored.
The most common form of scoliosis appears in adolescent.
Often, the causes of scoliosis are not known.
A few people with scoliosis need surgery.
Symptoms in infants include a bulge on one side of the chest.
It is more common in females than in males.
Most types of scoliosis (classified according to cause) are :
idiopathic, which means that the cause is unknown or that there is no single factor that contributes to the development of the disease.
Infantile idiopathic scoliosis- this is diagnosed between the ages of 0 to 3.
Juvenile idiopathic scoliosis- this is diagnosed between the ages of 4 to 10.
Adolescent idiopathic scoliosis- this is diagnosed between the ages of 11 to 18.
Adult or degenerative idiopathic scoliosis- this is diagnosed above the age of 18
Congenital forms of scoliosis typically result from a spinal defect present at birth, and are therefore usually detected at an earlier age than idiopathic forms of scoliosis.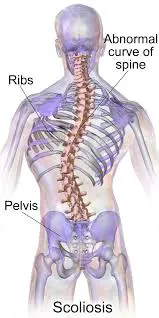 Neuromuscular scoliosis is spinal curvature that develops secondary to some kind of neurological or muscular disease, such as muscular dystrophy or cerebral palsy. This form of scoliosis tends to progress much more quickly than others.
Risk factors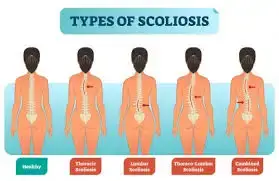 Risk factors for developing the most common type of scoliosis include:
Age. Signs and symptoms typically begin during the growth spurt that occurs just prior to puberty.
Sex. Although both boys and girls develop mild scoliosis at about the same rate, girls have a much higher risk of the curve worsening and requiring treatment.
Family history. Scoliosis can run in families, but most children with scoliosis don't have a family history of the disease.
Symptoms
Scoliosis normally becomes apparent from infancy or adolescence.
Often, the clothes of people with scoliosis do not hang properly.
The head is slightly off center.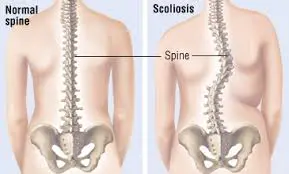 The ribcage is not symmetrical, so the ribs may be at different heights
One hip is more prominent than the other.
One shoulder, or shoulder blade, is higher than the other.
The person may lean to one side.
Uneven leg lengths.
Symptoms in infants
A bulge on one side of the chest
Consistently lying curved to one side (in babies)
In more severe cases problems with the heart and lungs, leading to shortness of breath and chest pain.
Some types of scoliosis can cause back pain, but it is not usually very painful. Back pain is not uncommon in older adults with long-standing scoliosis.
Complications that may arise from scoliosis includes: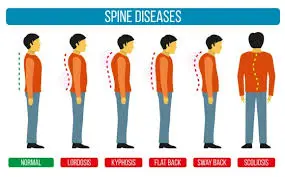 Lung and heart damage. In severe scoliosis, the rib cage may press against the lungs and heart, making it more difficult to breathe and harder for the heart to pump.
Back problems. Adults who had scoliosis as children are more likely to have chronic back pain than are people in the general population.
Appearance. As scoliosis worsens, it can cause more noticeable changes — including uneven hips and shoulders, prominent ribs, and a shift of the waist and trunk to the side. Individuals with scoliosis often become self-conscious about their appearance.
Factors considered before scoliosis treatment.
Sex: Females are more likely than males to have scoliosis that gradually gets worse.
Severity of the curve: The larger the curve, the greater the risk of it worsening over time. S-shaped curves, also called "double curves," tend to worsen over time. C-shaped curves are less likely to worsen.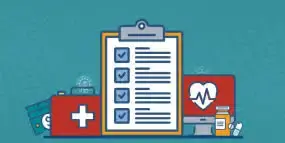 Curve position: A curve that is is located in the center part of the spine is more likely to get worse compared with curves in the lower or upper section.
Bone maturity: The risk of worsening is lower if the person's bones have stopped growing. Braces are more effective while bones are still growing.
Treatments for scoliosis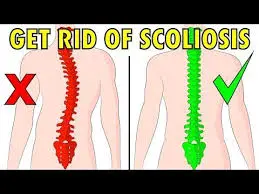 .Although there is no cure as of now there are ways to adequately manage the condition.
Casting
Casting instead of bracing is sometimes used for infantile scoliosis to help the infant's spine to go back to its normal position as it grows. This can be done with a cast made of plaster of Paris.
The cast is attached to the outside of the patient's body and will be worn at all times. Because the infant is growing rapidly, the cast is changed regularly.
Braces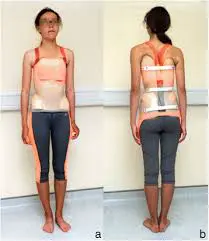 If the patient has moderate scoliosis and the bones are still growing, the doctor may recommend a brace. This will prevent further curvature, but will not cure or reverse it. Braces are usually worn all the time, even at night. The more hours per day the patient wears the brace, the more effective it tends to be.
When the bones stop growing, braces are no longer used. There are two types of braces:
Thoracolumbosacral orthosis (TLSO) – the TLSO is made of plastic and designed to fit neatly around the body's curves. It is not usually visible under clothing.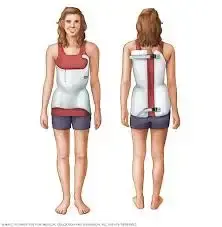 Milwaukee brace – this is a full-torso brace and has a neck ring with rests for the chin and the back of the head. This type of brace is only used when the TLSO is not possible or not effective.
Chiropractic treatment
Some people visit a chiropractor to relieve the pain and discomfort of scoliosis. Chiropractors manipulate the spine and provide alternative treatments. They maintain that realigning the spine will promote healing and well-being.
Chiropractic treatment can improve the quality of life for a person with scoliosis. However, it is not a cure and does not resolve the curvature of the spine.
Receiving chiropractic treatment from a nonspecialist can make symptoms worse.
However, based on the degree of curvature and the age of the child, a combination of bracing and physical therapy is often recommended.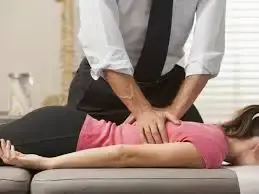 A very small number of patients with scoliosis may require surgery. Complications of scoliosis include chronic pain, respiratory deficiencies, and decreased exercise capacity.