Lagos Govt is Giving Private Sch Teachers Money, Here's Registration Link, and How to Register.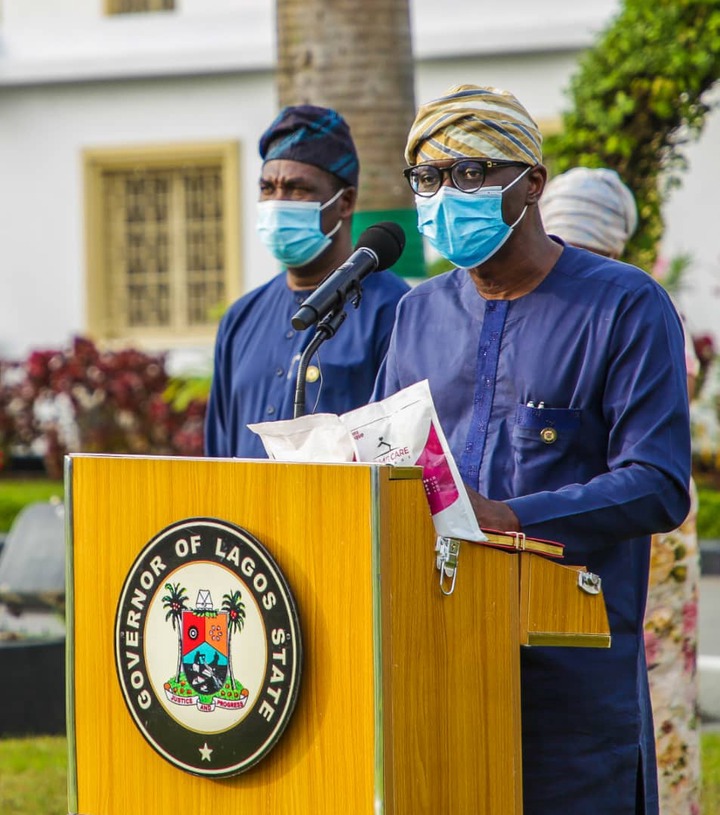 Here's all you need to know about the Lagos State Education Trust Fund (LSETF) and First Bank Edu-Fund Programme, [a ₦5bn Post COVID Recovery Support] for stakeholders in the Education sector.
The Lagos State Education Trust Fund Edu-Fund Programme is part of the proactive sustainable solutions by the Lagos State Government to curb and limit the socio-economic impact of the COVID-19 pandemic on both individuals & businesses in Lagos State.
The LSETF Edu-Fund will provide loans to Lagos-based low-cost private schools & vocational training centers that have been in operation for at least one (1) year prior to the date of application & have a minimum of 100 students. #EducationMeetsFundings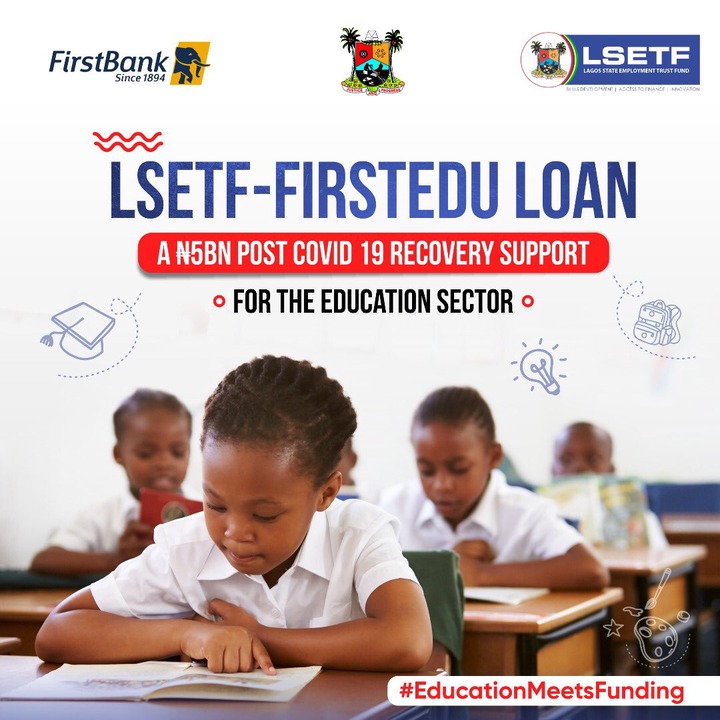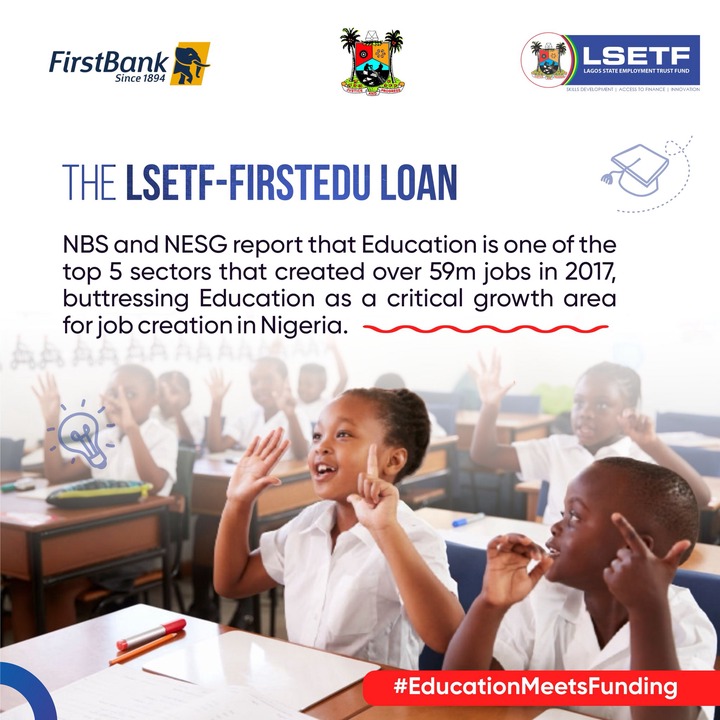 The LSETF loan scheme will provide up to ₦5 million to applicants in Micro-Enterprise businesses and SMEs.
The LSETF application process is simple and interested applicants can follow the easy steps in the attached image. 👇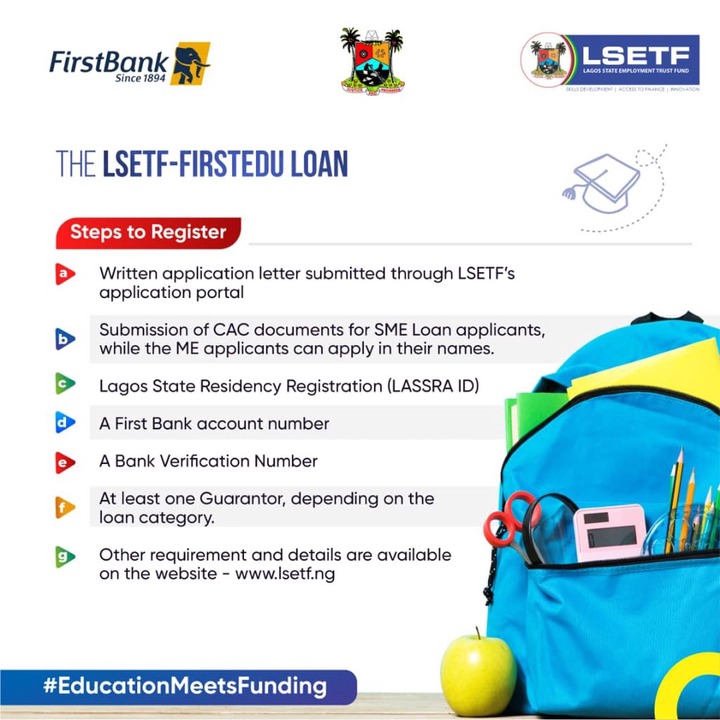 The LSETF application process for the Edu-Fund is fair and credible, irrespective of the applicant's affiliation, tribe, or gender. This is in line with the ethos of the Lagos State Employment Trust Fund.
Through this partnership, LSETF & First Bank will collaborate to provide matching funds that would be disbursed as a loan program to support low-cost private schools and vocational training centers in Lagos State. #EducationMeetsFunding #LSETFXFirstEduloan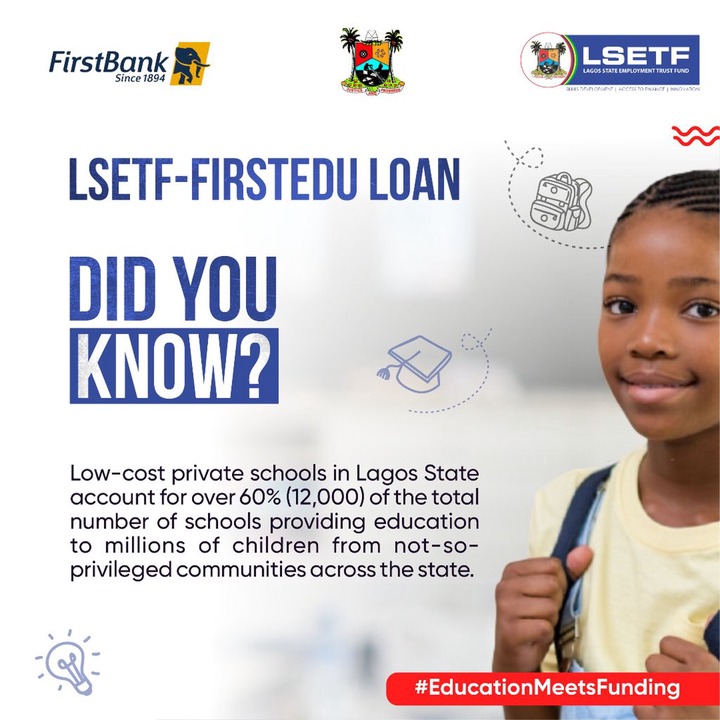 The LSETF believes that joining forces with First Bank is critical to mitigating the adverse economic consequences of the COVID-19 pandemic on the state's education system. Fantastic initiative.
You can ask questions below.
Please kindly share this as much as possible for others to see. Thanks.