JUST IN: Firm Who Pledged Support To Private School Teachers Explains How To Access Package
JUST IN: Firm Who Pledged Support To Private School Teachers Explains How To Access Package
According to reports from Nigerian Tribune early Thursday morning, a Nigerian-based education technology firm, TACO has confirmed that it would be assisting private school teachers in Nigeria as schools remain shut nationwide. Many questions have been raised in this regards by the affected nation builders.
In a bid to answer a lot of these questions, the firm has taken to their official facebook page to reel out the process involved for these teachers to easily access the welfare support. In the official statement, they wrote;
"Pleased to announce management's decision to support private school teachers with 40% of Taco's gross revenue until teachers receive their first salaries after schools reopen.
Management team members unanimously reached this decision because chances of opening schools any time soon continues to diminish in the presence of rising figures of Covid-19 cases in Nigeria.
We feel the pains of private school teachers who either aren't being paid fully, or as in most cases aren't being paid at all, unlike their counterparts in the public sector.
Teachers, whether private or government employees, are critical stakeholders in education and society and are hard-hit by the economic implications of the necessary schools lockdown, hence the decision to help ameliorate the hardship private school teachers are currently learning to cope with at this time.
A new functionality is being added to our app allowing each private school teacher to refer learners to the Taco app and earn 40% of the revenue from such sales. On the average, a teacher can hope to earn between sixty and a hundred thousand Naira from referrals within one month. Sales outside the referral program will be channeled to other private school teachers based on recommendations.
The new feature will be active beginning from Monday 29th June 2020. Interested private school teachers can download the "Taco Class" app from Google play store HERE and create accounts to access unique referral codes.
Stay safe!"
See screenshots of the post;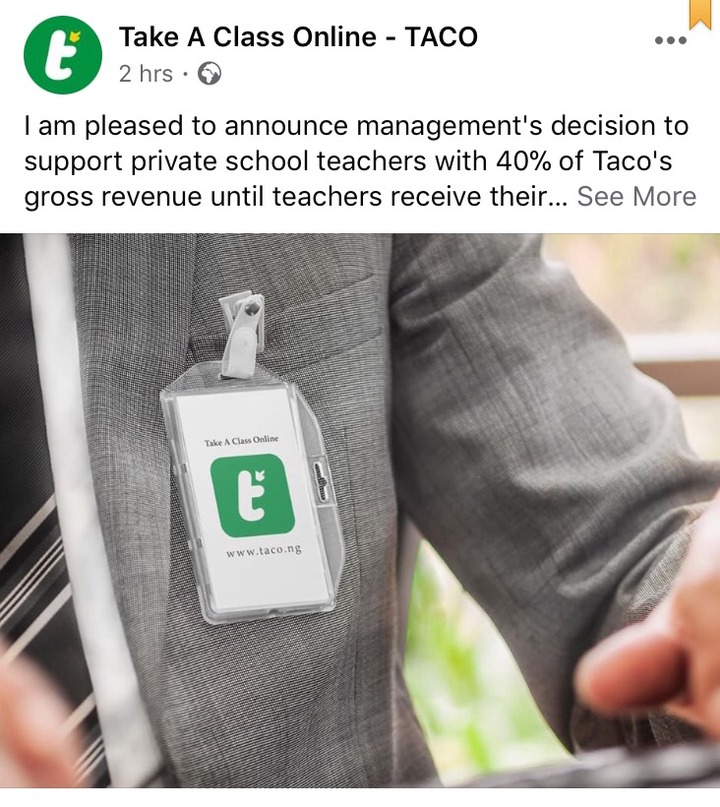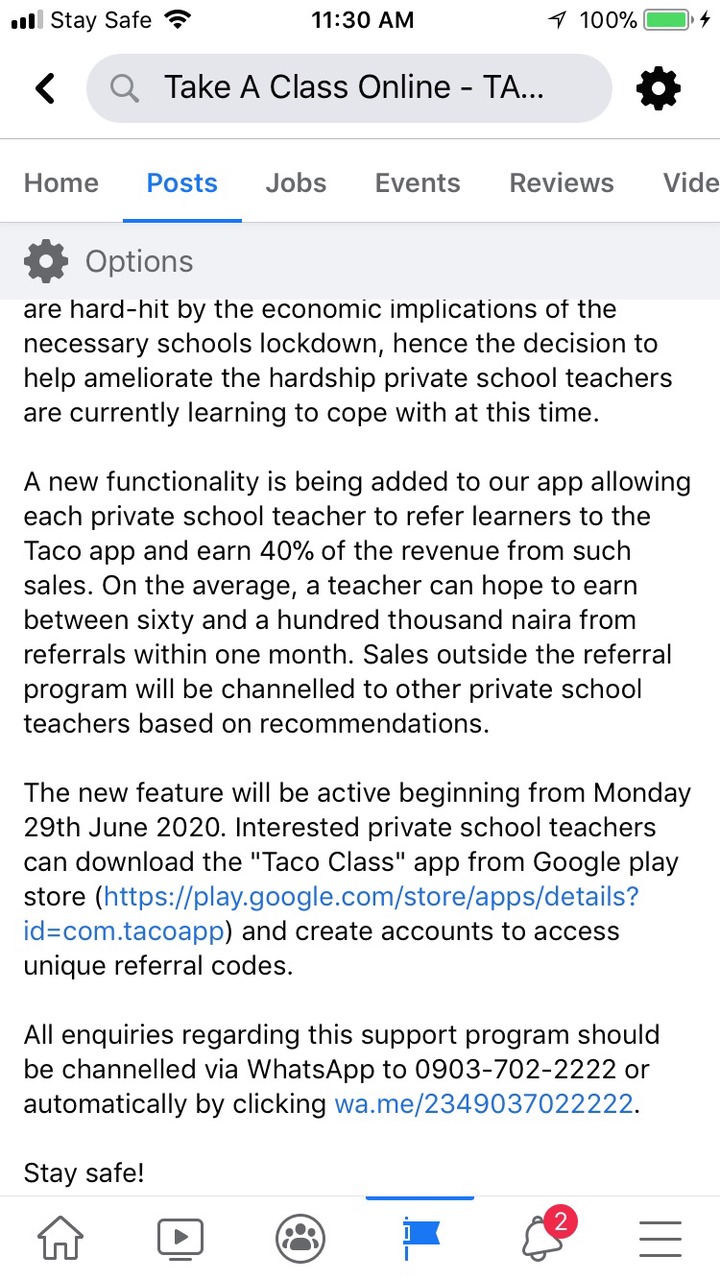 They also attached customer care line for anyone having further enquiries regarding the support program to reach out.
Kindly share with others, someone might be needing this. A lot of these teachers haven't even received any salaries since March.
What do you think of this innovation?
You may also read:Education Technology firm pledges 40% gross revenue to support private school teachers in Nigeria
Schools must create isolation spaces before reopening – FG