Imo Police Arrest Two Suspected Armed Robbers For Impersonation
Imo Police Arrest Two Suspected Armed Robbers For Impersonation, #Imo #Police #Arrest #Suspected #Armed #Robbers #Impersonation Welcome to 50MIND S BLOG, This is the most recent breaking news and trending broadcast that we have for you today: :

According to an article shared on The Guardian, Imo State Police Command have arrested two persons from an armed robbery gang, who dressed like police officers Inorder to rob and abduct people.
The suspects were actually three by names, Goodness Chinaza, Emeka Orji and Julius Chigozie. Julius escaped during the operation to arrest them at their house.
The spokesperson of Imo State Police Command, Micheal Abbatam said that items were recovered from the arrested suspects, and these items include police uniforms, bullet proof vests,, a double barrel shotgun and a Jack knife.
Abbatam also reported that the suspects usually kit themselves up in stolen police uniforms then they perform the duty of police officers by blocking roads. Then, they would pretend to search motorists's vehicles and finally, they rob them of their valuables.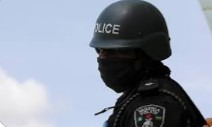 On July 20th, someone called the police command after he saw the three fake officers who robbed him of his grey-coloured Lexus 330 Jeep on the 18th of July. On that fateful hour that the caller was robbed, he was at gunpoint and had to obey all instructions from the officers including entering into his car's boothe. At that point, they took him to a lonely place where he was robbed of all his cash worthy things. They also used his mobile phone to transfer a sum of hundred thousand naira from his bank account to theirs.
Immediately the police received the distress call, they quickly went to the scene and arrested Goodness Chinaza. After a successful interrogation, Goodness opened up that he is a member of an armed robbery gang and he was among the people who robbed the victim.
On the instruction of the policemen, Goodness led them to arrest Emeka Orji who also lived with him along with Julius Chigozie at Aladinma Owerri in Imo State. Lucky for Julius, he escaped.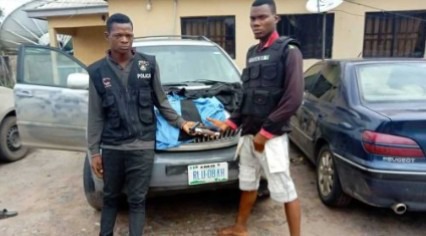 According to the information gathered by the police, the suspects got their uniforms and other items they use for their operation after robbing a police officer. Their method of operation is that they wave down people in flashy cars who would obey them thinking that they are genuine officers. They would then ask for their driver's license. As the potential victims try to give them the driver's license, they would force them into the boothe, and then take them to a lonely place where they can rob them of their valuables. In extreme cases, they would kidnap the victims and ask for ransom before they can set them free.

Content created and supplied by: JIroegbu (via 50minds
Online News )