The menace of the hit and run drivers are getting rampant in Nigeria, and its high time the federal government intervene by formulating a drastic action against such drivers.
Many Nigerians have lost their lives to the reckless driving of these nefarious drivers, due to their lack of skills and carelessness in driving.
Just about five days ago, during the early part of Wednesday of on the 12th of August, 2020, a certain reckless hit and run driver, crushed a woman to death at Okpoko junction, Anambra state.
The driver whose identity remains uncertain knocked down the woman while crossing the road and absconded according to the report of the punch newspaper of on the 11th of August, 2020.
According to an eyewitness, who spoke on the condition of anonymity said: The vehicle was on top speed and the driver fled after knocking the woman down".
It was gathered that the victim dies after much effort to rush the woman to Toronto Hospital, Onitsha, by her parent.
Similarly, another crash occurred around 8.20 am on the same Wednesday in Ihiala, near Onitsha.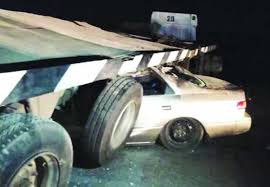 The menace of the hit and run drivers in Nigeria are grievous and Nigeria government must be wary about what to do in time.
There are so many things that may lead to a highway accident which we all knows but the issue of reckless driving should not be overlooked, most drivers are committing the crime due to their egoism for money, they tend to rush to destinations so as to rush back to convey more passengers and goods to places, in this way they end up killing humans.
In this regards, the Nigeria government should not allow anyone to go scot-free again, whoever that is guilty of killing a fellow human should be arrested and incarcerated without trial.
What is your contribution to this story?
Add your view below
Please like, follow and share