Edo state no doubt is one of the well-known states in Nigeria. With so many natural and labour resources, the government no doubt quite significant to the federal republic of Nigeria. As crucial as Edo state is to Nigeria, governance is one critical factor that helps to keep the government running.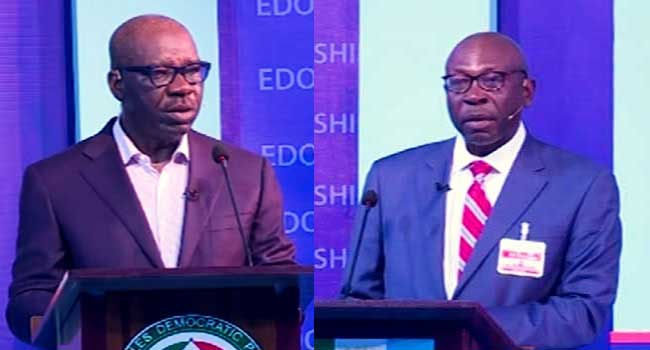 As we all know that Edo state governorship elections will be taking place in less than a week, the political atmosphere in Edo state is tense as the two heavyweight political parties in the state. The Peoples Democratic Party(PDP) and All Progressive Congress(APC) battles it out.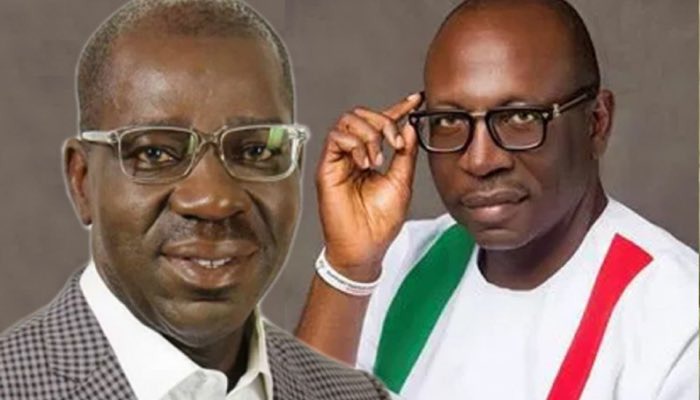 Yesterday, a governorship debate was held between the incumbent Governor of the state Godwin Obaseki(PDP) and Pastor Osagie Ize-Iyamu(APC).
In the course of the political debate, Pastor Osagie Ize-Iyamu pointed an accusing finger at Godwin Obaseki as regards the issue of security and corruption. I have thus compiled five different allegations levied against Godwin Obaseki by Pastor Ize-Iyamu.
1. Ize-Iyamu accused of embezzling 75 billion in debts. While following his statements via his social media handle, Ize-Iyamu accuses Obaseki of collecting over 75billion in debt. Despite that, he is still yet to fulfil his promises to the people of Edo state.
"My contestant has collected over 75 billion in debts. What did he do with them? All his promises remain unfulfilled although he came in when there was a high windfall in Edo."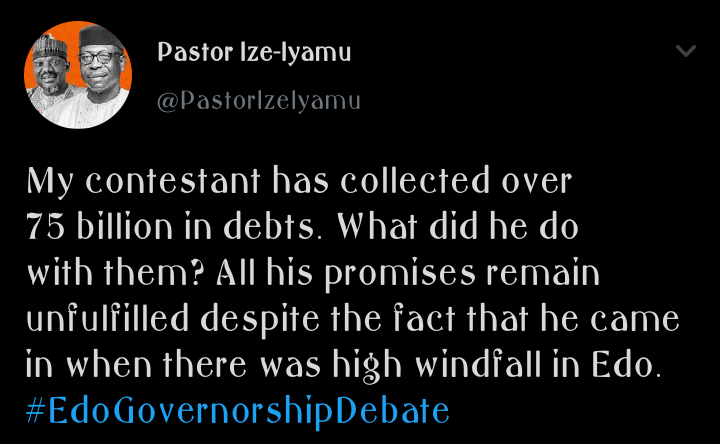 2. Osagie Ize-Iyamu accused the Governor of failing to develop the Edo state civil service.
For Osagie Ize-Iyamu, the problem with the Edo State Civil Service is not an over-bloated workforce but the inability of the Governor to develop the Edo state civil service.
Osagie noted "I want to make it clear that the civil service workforce is NOT over-bloated. The problem is that the Governor has not lifted a finger to develop the workforce; it will be suicidal to try him again."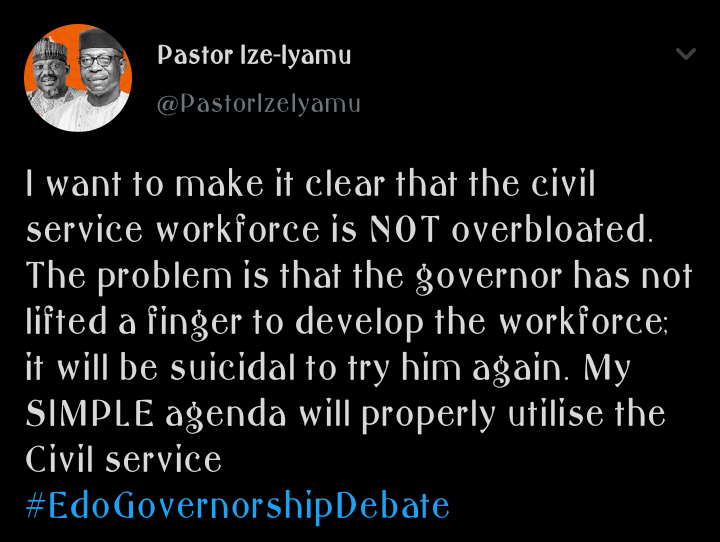 3. Osagie Ize-Iyamu accused the Governor of not investing in security.
The APC candidate stated categorically that while there has been an increase in the number of security votes, there has been no investment whatsoever in security itself. According to Osagie Ize-Iyamu, the state is one of the few in the country with no advancement in necessary technologies needed to fight insecurity.
He noted "There has been an increase in security votes, but there has been no investment in security. Our state is one of the few in the country with no advance in technology for fighting security. Our security vehicles cannot fight security."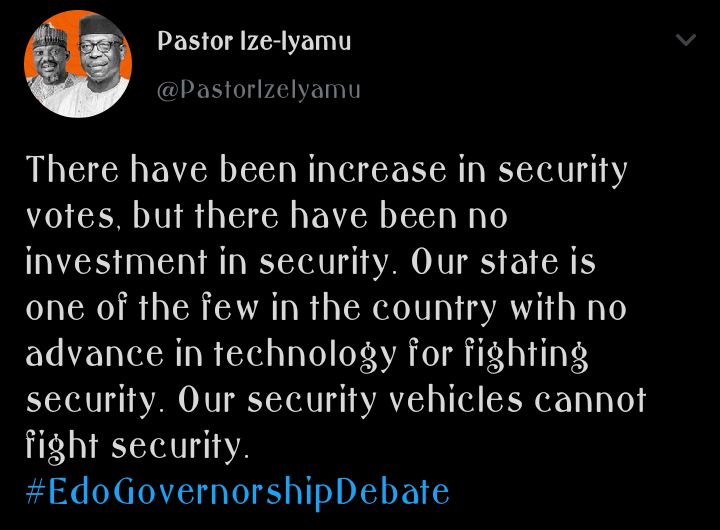 4. He accused the current administration of investment N16billion in training teachers with no improvement in the quality of education. For Osagie, improved quality in education would have allowed Edo state to engage in e-learning during the Covid-19
"The government has spent around 16 billion on training teachers, but how has this improved education in the state? We should have engaged in e-learning during the COVID-19 outbreak. Within a hundred days, I can accomplish that."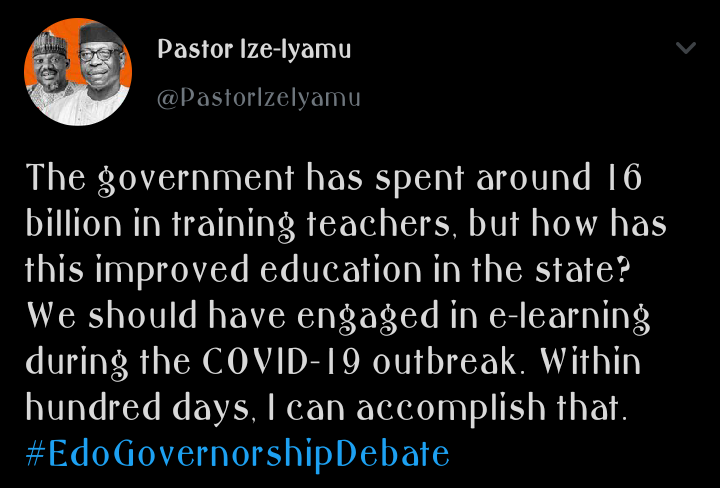 5. Osagie Ize-Iyamu accused Obaseki of embezzling N2billion borrow funds from the partnership with Saro farm. "I went to Sobe. I am aware of your partnership with Saro farms. You borrowed up to N2bn. Did this money come back to Edo State?"