Don't Throw Away Pawpaw Seeds, Eat It For These 5 Health Benefits
Don't Throw Away Pawpaw Seeds, Eat It For These 5 Health Benefits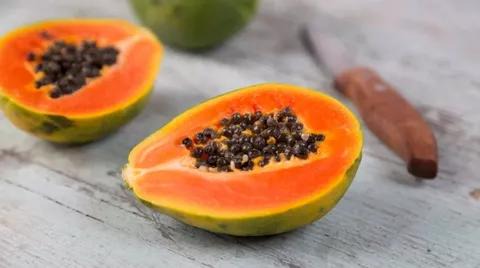 I know what I am about to say, sounds absurd, but, it is the real deal.
You need to understand why you shouldn't trash your pawpaw seeds after consuming the succulent part of the body.
Research carried out by some health practitioners, has proven that pawpaw seeds contains varsely all necessary nutrients needed for the body, and could also be used in the cure of some well-known sicknesses.
Note: pawpaw seeds can be taken raw or crushed and mixed with salad or honey.
You must also understand that pawpaw seeds are very dangerous for the consumption of pregnant women.
You must also understand that pawpaw seeds could also be used in the treatment of kidney and liver related issues.
1. Pawpaw Seeds are very rich in papain, an enzyme that quickens digestion in the human body.
2. Pawpaw seed have agents that can be used to stop the growth of tumors and cancer cells. It contains an alkaloid called carpaine which kills amoeba parasites and intentinal worms.
3. Pawpaw Seeds are natural conceptives for both men and women, and it actually has no side effects.
It means that pawpaw seeds could be used to flush out toxins, infections and unwanted things in the blood stream.
4. Pawpaw Seeds even when taken in small quantity, kills bacterias. They fight bacterial causative infections, and also cures typhoid.
Isn't that a wonderful news?
5. Pawpaw Seeds improves the kidney health of an individual:
If you want to stay away from kidney related issues, then you should start consuming pawpaw seeds, whether chewed raw or crushed and mixed with water.
Which ever way, you will definitely get your desired results.
Basically, these are the things you could gain by consuming pawpaw Seeds, so, when next you're done eating your pawpaw, don't forget to do justice to the seeds as explained in the write-up.
You will be happy if you do this often.