Entertainment is one of the most famous industries in Nigeria where the participants like actors, movie producers, musicians, music producers and others get to be famous and widely known both in Nigeria and and on the world stage at large.
For movie lovers, actors in their respective field always seem to have a way to their heart through their actions on TV screens. What this simply means is that actors are loved and held in high esteem by a lot of Nigerians especially the movie lovers.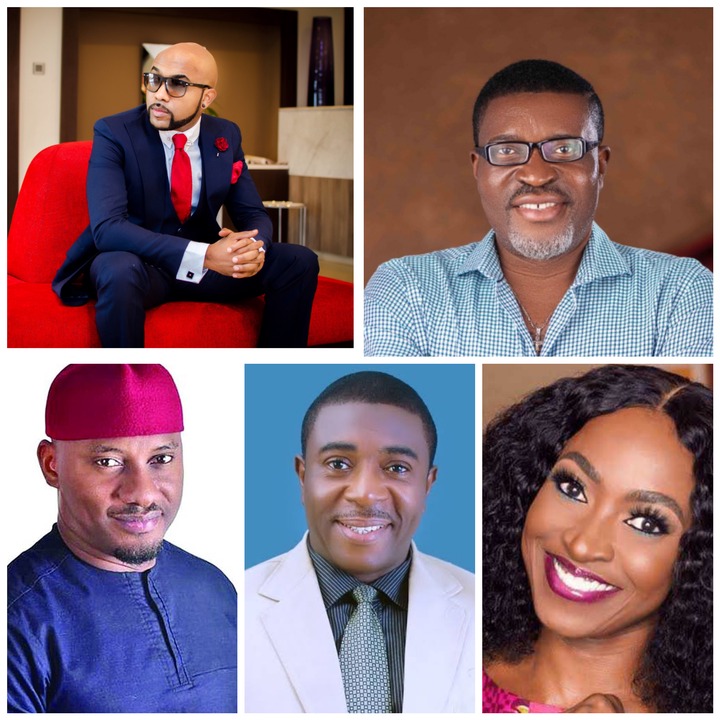 While the movie industry might be a sector that put individuals in good light before the people of a nation, it appears politics is a different sector and ball game entirely.
One would have thought being an actor and public figure would make people fall in love with them and support their political ambition by voting for them, however, the reverse is the case as most of the actors who have at one point in time or the other joined a political party and contested elections have all lost except for few.
This article has thus been written to reveal 5 popular Nollywood actors who joined politics ran for a political post and lost the election to a much stronger opponent.
1. Banky W
Banky W is not an unknown figure when it comes to the Nigerian entertainment scene. The versatile individual as many claims is not only a musician but also an actor who has featured in some of the biggest Nigerian movies among which include Wedding Party and Sugar Rush amongst others.
Banky W who's real name is Bankole Wellington hails from Lagos state. In 2018, the ace actor and musician announced his intention to run for a political office.
He announced his intention to run for Eti Osa federal constituency seat in the Nigerian House of Representative. He contested under a party named Modern Democracy Party(MDP) which was formed barely a year before the elections.
Banky W, however, lost the election to All Progressive Congress(APC) flag bearer Babajide Obanikoro on the 23rd of February 2019.
2. Bob Manuel 
Born Bob Manuel Obimma Udokwu, Bob has no doubt gained a massive reputation across Nigeria as a talented and gifted actor who knows what to do when it comes to gracing the television screen for an acting role.
Bob Manuel no doubt is a celebrity and a celebrated actor who has over the years amassed widespread popularity among movie lovers.
In 2015, Bob Manuel joined politics and announced his intention to run for the Idemili North Constituency in Anambra state house of assembly. He contested under the All Progressive Grand Alliance(APGA) but was defeated by his fellow actor who held the position Tony Muonagor known as Tony "One Week".
3. Kate Henshaw 
Kate Henshaw is another entertainer/actress who contested for a political post and lost. Born in Calabar area of Anambra state, Kate Henshaw attended and schooled in both Cross River and Calabar state.
While she holds a degree in Medical Microbiology, Kate Henshaw however came into limelight through the movie industry after her acting prowess became visible for everyone both movie producers and movie watchers alike.
She has featured in so many Nollywood movies among which include "Roti", "Stolen Bible" and so many others.
In 2015 Kate Henshaw contested under the People's Democratic Party primaries for a ticket to run as the flag bearer for the Calabar Municipal/Odukpani federal house of Representative seat. Kate Henshaw, however, lost the election.
4. Kanayo O. Kanayo 
Anayo Modestus Onyekwere is his name and he is no doubt a well known Nigerian actor. A native of Mbaise in Imo State.
Widely known as Kanayo O. Kanayo by a lot of Nigerians far and beyond, Kanayo O. Kanayo first graced the TV screen after he featured in the 1992 movie "Living in Bondage". Since then, Kanayo O. Kanayo has thus gone ahead to fortify himself an actor par excellence.
In 2011, Kanayo O. Kanayo contested in an election that will see him represent the people of Ahiazu/Ezinihitte Mbaise constituency at the Nigerian House of Representative. He, however, lost the election.
5. Yul Edochie 
Son of the legendary Nigerian actor Pete Edochie, Yul started acting at an early stage of his life but just like his father, Yul Edochie indeed made his mark in the movie industry.
Yul over the years has indeed built a name for himself in the movie industry. He has also solidified himself to become a force to reckon with when it comes to Nollywood.
In 2017, Yul Edochie declared his intention to run for the post of the governor of Anambra state. He contested under the Democratic People's Congress(DPC) but lost the election to the eventual winner from APGA(All Progressive Grand Alliance) Chief Willie Obiano.